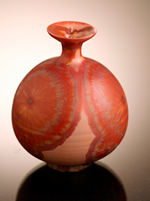 Bottle, 5 in. (13 cm) in height, thrown porcelain, fired in reduction, by Diane Creber.
Crystalline glaze potters have benefited greatly by the advancement in computer technology. By being able to pre-set firing programs, firings have become less labor intensive and more accurate, encouraging more potters to experiment with these glazes. Consequently, there has been far more development in crystalline glazes in the last few years than in the past. A variety of people and events have recently taken place to bring crystalline glaze potters from the United States, Canada and Europe together to explore this evolving art and technology.
In September 2005, Jesse Hull organized LatticeStructures, a conference and exhibition for crystalline glazers in Kansas City, Missouri. This two-day conference brought together over 100 potters, to hear discussions and exchange ideas. The exhibition was held simultaneously in the gallery at Red Star Studios. The gathering generated such enthusiasm among the participants that another conference was planned.
The second gathering was a five-day workshop from May 2nd to May 7th 2006, held at the studio of Kris Friedrich in Palm Springs, California. Kris, together with Peter Ilsey, John Tilton, Jesse Hull and Glen Doyle planned the workshop and pre-mixed the glazes, although participants were also encouraged to mix their own glazes. Guest potter Peter Ilsey from Daventry, England led the group of twenty-two invited potters and showed slides of his work, provided new glaze recipes and firing schedules and demonstrated making a portable gas-fired kiln.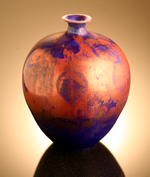 Bottle, 7 in. (18 cm) in height, thrown porcelain, fired in reduction, by Mark Winner

Each potter brought several bisque pots to glaze and fire in Kris's many kilns. Kris's assistant, Tom Wallick, a very talented potter out of Kris's studio, offered assistance, and fired the kilns late into the night. The studio was large, well equipped and organized--a potter's dream. There were four electric kilns, two gas (one a large car kiln), and a gas raku kiln used for post firing reduction. We also had use of a spray booth, and anything else one would need for doing crystalline glazes.

The first day started with a talk from Peter, and a planning meeting, with constant juggling as the workshop progressed, including time for glazing pots and sharing ideas both one-on-one and in larger groups. Glazing started almost immediately, and continued throughout the five days as kilns were loaded and unloaded. As soon as a kiln was opened, we gathered around to see the results, a few times burning fingers with our impatience. Discussions followed, results compared, and new kilns fired.

One interesting result was seeing the variety of effects one glaze could give depending on which atmosphere it was fired in. For instance, a glaze containing 2% copper carbonate first fired in oxidation in the electric kiln resulted in green crystals on a green background. The same glaze fired in slight reduction in the gas kiln resulted in a mirror-like surface with a grey background and golden tan crystals. Up to this point in crystalline glaze history, most of us have avoided reduction when growing the crystals, believing that reduction interfered with crystal growth. However, by introducing slight reduction towards the end of the crystal-growing phase it was possible to have crystals, and yet still have reduction effects. Taking a pot first fired in the electric kiln and re-firing it in a reducing atmosphere in the raku kiln, by first taking the temperature to 1500°F then reducing down to 1300°F, resulted in a pink background with bright red crystals.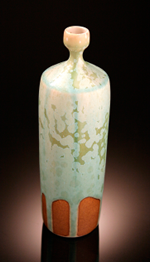 Bottle, 8 in. (20 cm) in height, thrown porcelain, by Marsha Silverman.

Some of the more interesting results came from Jesse Hull's experiments with glazes containing silver nitrate. These glazes also contained a small amount of copper carbonate and came out of the electric kiln looking rather flat…but after re-firing in the raku kiln in heavy reduction, the results were spectacular. A mirror finish with crystals of rainbow translucence could be seen, but as the pots were turned other subtle colorings appeared.

Although most of the potters there were primarily interested in achieving macro crystals, John Tilton and Marsha Silverman were working with crystalline mattes. Their results were so outstanding that many of us are now going to be experimenting with the matte glazes. Meanwhile, John and Marsha got some pretty exciting macro crystals, and want to experiment with some of these glazes.

Matt Evans a potter from the area who often works with Kris demonstrated throwing large tall vessels to be crystalline glazed. On another day, professional photographer Sarah Holden took photos of our work on black glass with indirect lighting bouncing off the walls and discussed how to photograph pottery and how to deal with a shiny glaze surface and avoid the reflection. Paul Geil from Geil Kilns visited the studio and demonstrated using temperature and oxygen probes and controllers.

Working with other professional potters in this setting allowed ideas to flow, and the results were outstanding. I feel I learned more about this glaze process in five days than I have in the last five years. I predict crystalline glazes will change dramatically, and it will be exciting to see where these potters take crystalline glazes, as they move from crystals on a glassy background, experimenting and sharing their results.

The participants all have Kris Friedrich to thank for making this workshop possible, and inviting us to have the use of his studio. Kris created a CD of the workshop's results, so we will each have a lasting record of glazes used, kilns fired, firing schedules and much more useful information some of which previously has been difficult to get. The workshop encouraged the sharing of information and ideas. And by sharing, each of us has come away richer in our knowledge of these glazes.